A travel nurse, Leah Gnitka, recently went to visit Thailand and came back with so much to share. Have you ever been curious about visiting Thailand as a travel nurse on your time off? We've seen many visiting lately, and now we get to share some insight from how to find the best kind of transportation, things to pack, food to try, where to go, and more. Check it out below: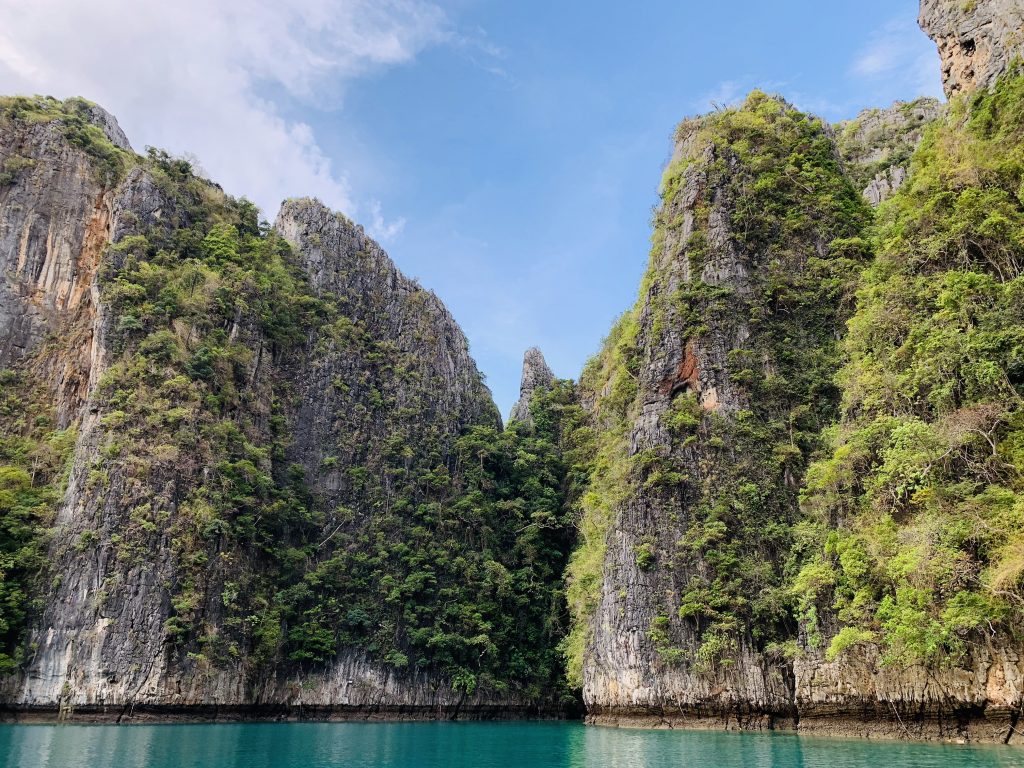 Key Phrases:
Language: The official language in Thailand is Thai. You may also hear Laotian or Yawi spoken depending on the area of Thailand you stay in. Most Thai speak very little English. Hand gestures or Google Translate can be used to help communication. 
Some basic Thai phrases you might want to know:
Hello – Sawadee ka

Yes – Chai 

No – Mai

Thank you – Khop khun ka

Where is the restroom? – Hong nam yoo tee nai ka
Transportation:
Tuk-tuks

– you will see tuk-tuks everywhere in Thailand. You can easily ask them for a ride, or more commonly they will probably come up to you asking to take you somewhere. 

Taxis

– you will see taxis or vans in more tourist-filled places. They might offer you special deals to take you to certain attractions. Your hotel or hostel will most likely be able to arrange taxi services for you as well.

Ferries

– I never used the ferries, but they are a cheap way of transportation in-between the different islands.

Planes

– the major cities in Thailand have airports. Tickets are cheap and it is a fast way to travel. But just know that sometimes the planes do get delayed. Eva Air and Air Asia were two of the main airlines I used during my south-east Asia trip.

Buses

– I also never took buses, but there are a lot of public transportation bus lines. There are even overnight buses if you plan on busing your way through Thailand.

Grab

– Grab is like Uber. It's an app on your phone and you can catch a ride by your location. There is no Uber in Thailand
Money:
The currency used in Thailand is the Thai Baht. Roughly 100 bahts amounts to 3 USD. You can go to the money exchange at the airport or take money out through an ATM machine. Places do take credit cards; but at the night markets, street stands, or smaller cities, you will have to use cash.
Stay Hydrated:
It is very hot and humid in Thailand so make sure you are drinking plenty of water so you don't end up with heat exhaustion. Also, note that you should only drink water from bottled water bottles. 
Essentials to Pack:
Depending on how long your stay is will depend on how many of the items on the list you'll want to bring. 
Toilet paper

(a lot of bathrooms won't be carrying this, so it's nice if you have some of your own)

Summer clothes

(it is hot, so bring clothes that are light and you will stay cool in. Most Thai people wear conservative clothes, but they understand that we might not be used to the heat and it is okay if you are wearing shorts or tank tops)

Temple clothes

(when entering temples, you do need your shoulders and knees covered so make sure to bring a skirt/pants/dress that will be appropriate if you plan on visiting temples)

Jacket/Umbrella

(if you're visiting during the rainy season, you'll want to be prepared for the rain!)

Good walking shoes

(you're probably going to be doing a lot of walking so make sure whichever shoes you bring, they're comfortable!)

Fanny pack

(this is always my go-to instead of a purse! It fits everything I need in it, and I don't have to worry about getting pick-pocketed)

Locks

(this is another item that I always bring whenever I travel. I like to keep my suitcases locked in case something unlikely were to happen)
Foods to Eat 
Pad Thai – a rice noodle base mixed with a type of meat (I tried chicken) and usually vegetables and spices.
Khao Soi – a curry soup base that usually contains both rice noodles and egg noodles, a type of meat, and some garnishes to top it off.
Mango Sticky Rice – this is a traditional Thai dessert made out of rice and mango as the name states.
Unfortunately, I was craving American food by the time I got to Thailand, so I didn't try as many food options as I could have. But the three above that I tried were absolutely delicious and I would highly recommend. Also, I would suggest being cautious when getting street food. There are food stands all over Thailand and I heard such a mix of "don't eat street food" to "street food is the best," so I just suggest that you use your own personal judgment with that.
Where to Go & Why: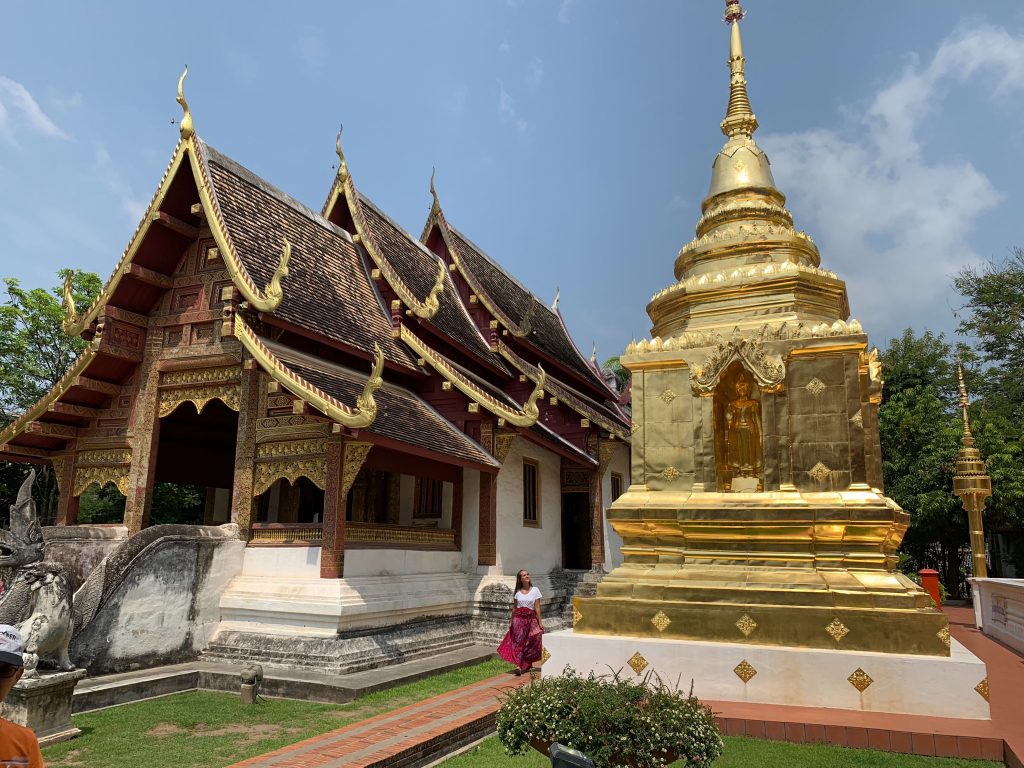 Phuket
Phang Nga Bay – this is a National Park in Thailand. It is filled with islands, cliffs, forests, and caves. I did an excursion with Simba Sea Trips Co. and throughout our day trip we got to explore caves, see walking fish, canoe through the islands, walk out on the sand bar, and explore the James Bond Island. This National Park is beautiful, and the active day trip through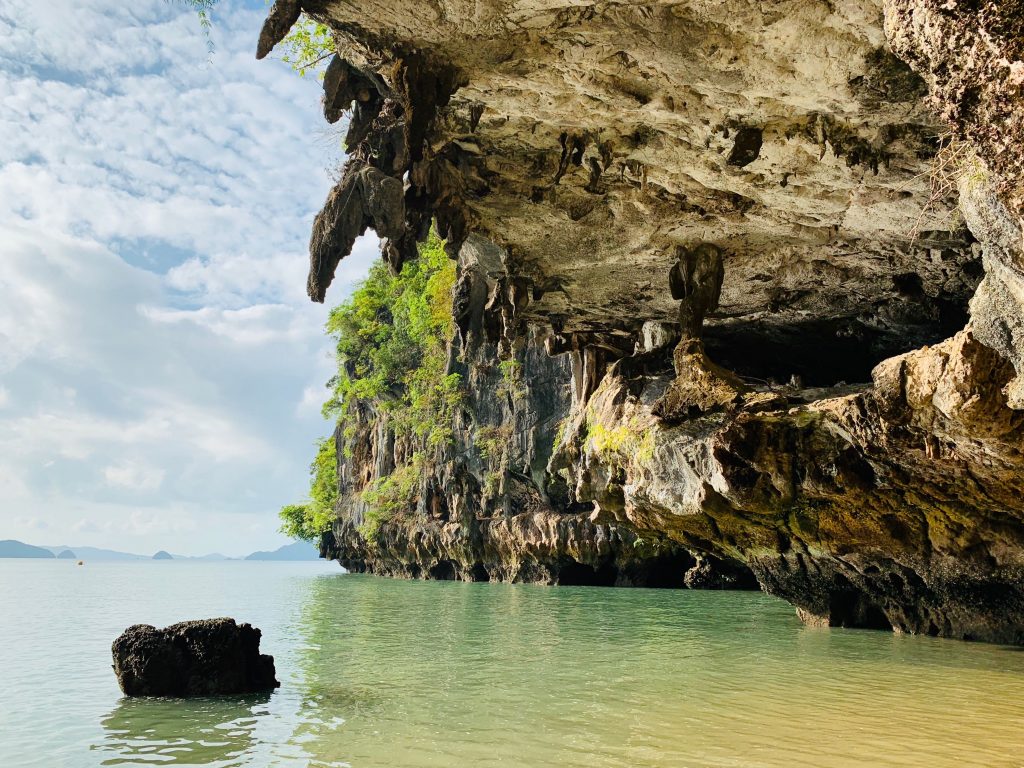 it is exciting!
James Bond Island – there are a lot of tours in Phuket that include the James Bond Island. This is the island that was featured in James Bond's movie The Man with the Golden Gun. It is pretty full of tourists now. There are also a lot of locals at this spot with their market stands set up.
Snorkeling – the waters of Thailand are so clear that sometimes you can even see fish or straight to the bottom without even having to snorkel! There are a lot of corals and colorful fish. I went on a snorkeling trip with Phuket Let's Go around the Phi Phi Islands.
Beach Bumming – there are a TON of beaches along Phuket. Each beach offers a different style (party, family, solo, etc.) so choose according to what you want out of your experience. 
Thai Massages & Fish Spas – you will find Thai massages and fish spas all over Thailand, but they are definitely the cheapest on the islands. I highly suggest experiencing a Thai massage and the fish bar. They might both seem a little strange or different than you're used to at first, but you will leave feeling very relaxed and refreshed.
Chiang Mai
Night Markets – Chiang Mai at night is bustling with activity! There are many night markets all over the city. Some are bigger than others; Some have more street food, and some have more vendors. During our stay in Chiang Mai, we went to the Chiang Mai Night Bazaar and the Saturday Night Market. 
Temple Touring – There are a lot of temples all over Thailand. When walking through the streets of Chiang Mai you will probably accidentally find temples. Some main ones you can visit right in the Old City are the following: Wat Phra Singh, Wat Chedi Luang, and Wat Phantao.
Hip Coffee Shops – Chiang Mai is a pretty hip city filled with cute coffee shops. Every street corner seems to have one, and they are each unique in their own way. My favorite coffee shop that we visited was the Harinezumi Café,
which is a hedgehog café! You get to feed and hold the hedgehogs while sipping on your coffee. They also have guinea pigs which you can feed as well.
Doi Inthanon National Park – This park is the highest peak in Thailand and it is actually part of the foothills of the Himalayan Mountains. The national park is home to two chedis, the King and Queen, to which they are dedicated. There are also walking paths, waterfalls, and rivers. I would suggest doing a tour of the national park as they will take you to all the best places and cover the entrance fees.
Elephant Sanctuaries – One of the biggest draws to Chiang Mai is definitely the elephant sanctuaries. There are a lot of options for this type of experience during your stay, but I suggest that you do your research ahead of time and really be careful with where you go for this experience. There are still places in Thailand that do the chair riding or abuse their elephants. We went to Chai Lai Orchid, which was phenomenal and I would suggest staying or visiting there. Some other sanctuaries that I have heard are good are Elephant Nature Park and Maerim Elephant Sanctuary.
Trip Highlight: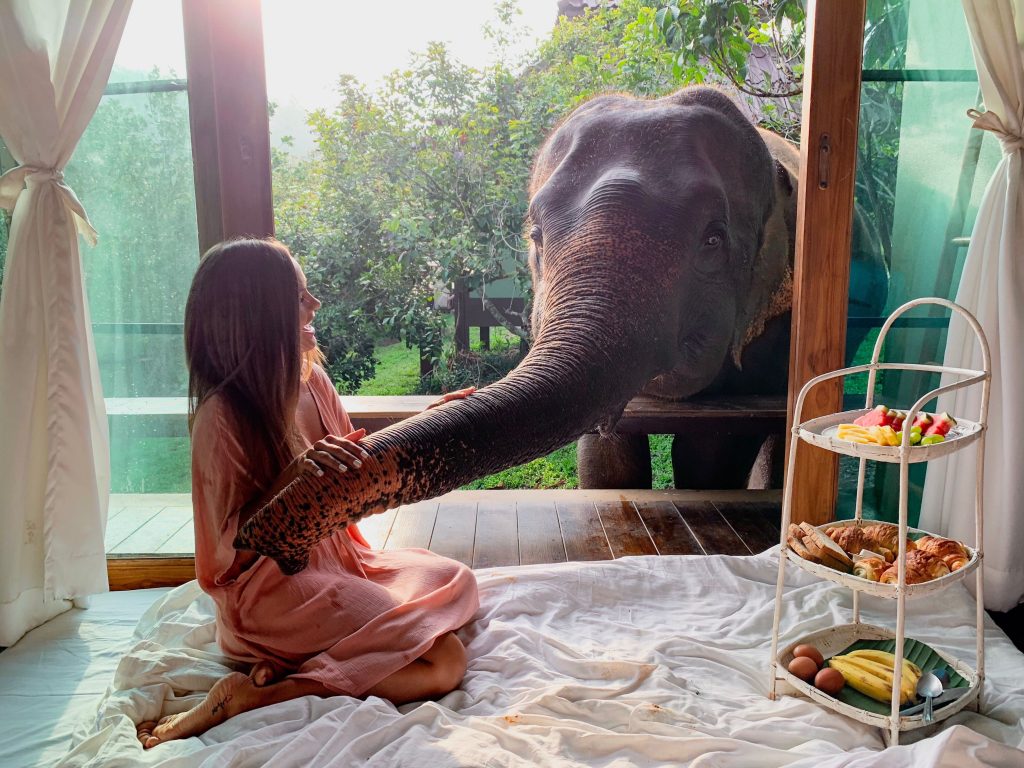 Chai Lai Orchid
My stay at Chai Lai Orchid was definitely the highlight of my trip. This sanctuary is tucked up in the mountains of Chiang Mai. They do offer pick-up from the Old City of Chiang Mai. This place not only offers excursions with elephants, but also hikes to waterfalls, bamboo rafting, and tours teaching you about the local villages in the mountains. Not only can you go on an excursion for the day, but you can also spend the night here. You can book to spend the night at the sanctuary, or you can also book to spend the night at a local villager's house for a very cultural experience.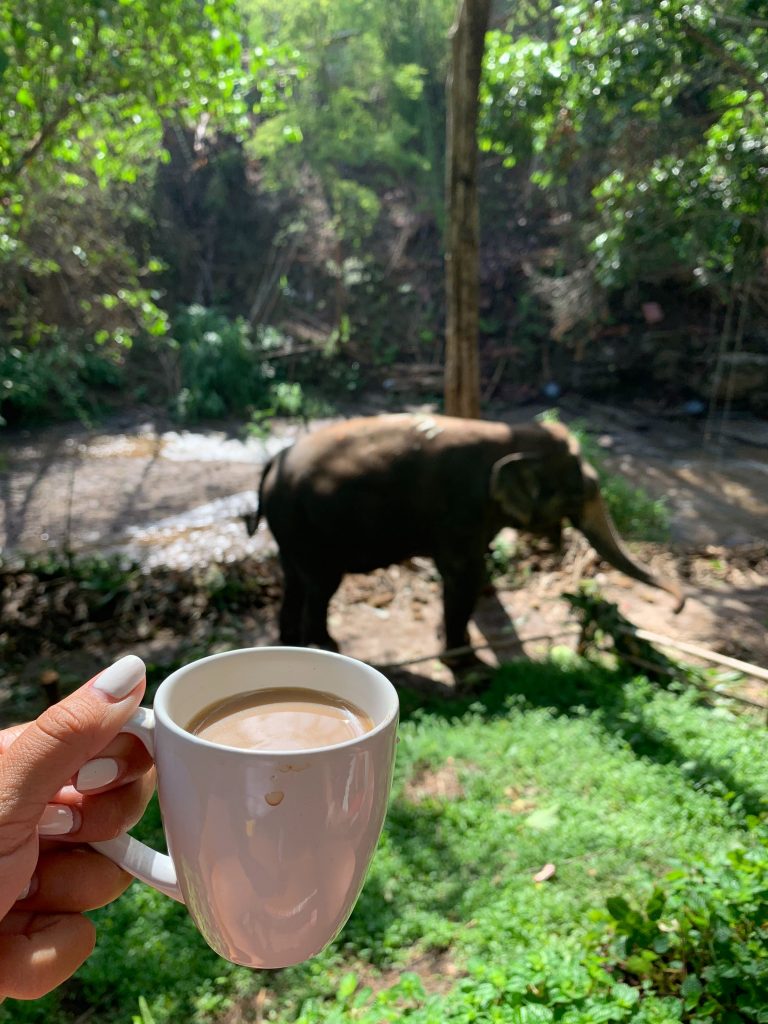 The elephants at Chai Lai Orchid were all previously owned by a man who did chair rides with them. These elephants are now rented by Chai Lai Orchid and able to live here instead of their previous conditions. Not only are the elephants rescued, but Chai Lai Orchid also supports Daughters Rising. Daughters Rising is an organization that helps rescue women out of the sex trafficking industry by giving them a job, skill-set, and education. Chai Lai Orchid is one of the places these rescued women can work.
We spent three full days here. We did waterfall hiking, village touring, bamboo rafting, and elephant feeding. There were constantly elephants everywhere it seemed like. After we'd eat our breakfast or lunch, we'd bring our extra bananas or watermelon to feed to the elephants. You can tell the elephants are truly loved and cared for by the elephant trainers and owners.
What a trip from Leah! It makes us want to dive into an adventure to Thailand too. Do any of you have upcoming plans to travel there? Let us know! If you're new to Wanderly and are just checking us out for the first time, here's a big welcome to you! We're an online platform where travel healthcare professionals can compare assignments across the market from top agencies. Join for free and find your next dream travel assignment today. 
Don't forget to follow along on social. We love getting to connect with travelers and their adventures: Instagram | Facebook | Twitter.