Travel Nursing in New York City By Kayla Hussey – RN @kaylaahussey
Ah, NYC. New York City has made me feel on top of the world while also being the place that has knocked me down so hard that I had a brief thought in my head that said "is there a way I could sleep in the subway and it still be safe?".  It's an interesting place to do travel nursing and certainly not like any other place. Where else could you spend over 1.5K/month to stay with two randos, where you hit your knees on the bathroom sink while trying to go to the bathroom, and you have to close your bedroom door while scaling the closet to get on your bed? Where you have to spend an ungodly amount washing your clothes at the local laundromat, still have to let the thick items air dry because the place is too old for a spin cycle, then lug it up four flights of stairs because Lower East Side apartments don't have elevators?  Where you have to get a standing clothes rack for your already miniature room because your "closet" is a small cut out in the room. But again, there is never a city that can bring you to tears of joy quite like New York City. Where you're stopped on your walk home so you don't walk through the newest Amazon Prime series shooting. Where you see Tina Fey and Rachel Dracht casually eating outside at the local Ukrainian Restaurant. Where Hugh Jackman watches sand volleyball in the same stands you do. Where you finally understand the meaning of "the city that never sleeps" while out dancing with your friends till 4AM to 90s jams. Where you sneak on a reality TVs premiere party bus.  Where you jimmy your apartment complex window open to watch the 4th of july fireworks far away from the crowds. Where you meet some of the most interesting people you've ever met, for better or for worse. This midwestern girl lived in the big apple for 6 months. For better or for worse.
I'm writing to tell you about travel nursing in New York City. Regardless if you're a big city person, I recommend everyone trying this.  You will learn so much about yourself at this assignment. You will develop a sense of independence you never thought you had. You will learn humility and strength. Just please, do me a favor and don't judge New York City on Time Square. It has so much more to offer. So let's get started.
Travel Nursing in New York City – The Hospitals
Fortunately for people wanting to go travel nursing in New York City, it has some really great hospitals. Not only that but for some reason these hospitals have a lot of openings for travelers. A great mix that I've only ever seen in San Diego as well (p.s. Go there too). I was lucky enough to work at two great hospitals, NYU and MSK. I would recommend both of these. NYU is a teaching facility with some new state of the art equipment (and even a podcast! haha). They just opened a HUGE BEAUTIFUL new building so they may need people as they fill the needs of the new building. They were on a hiring freeze (why I didn't resign) but I have since been contacted to come back so that is over (I declined). MSK (Memorial Sloan Kettering) is a nationally, perhaps worldly, known cancer institute. I learned the most from this assignment and I saw some of the most innovative surgeries I have ever seen (I'm an OR nurse). They weren't as travel-friendly as NYU, however, they weren't actively mean and working at a world-renowned place made it worth it. I know NYP and Mount Sinai are suppose to be awesome places but I can't attest personally. I heard Lenox Hill is still paper charting so beware of that!
Travel Nursing in New York City – The Food
Food is probably the most overwhelming part of New York City. You could live in New York City for years and not even make a dent. I have some recommendations but keep in mind I was only there for 6 months. Also, I only lived in Manhattan (specifically East Village and Lower East Side) so most of my recommendations are going to come from there, I just didn't get enough of a feel of the other areas.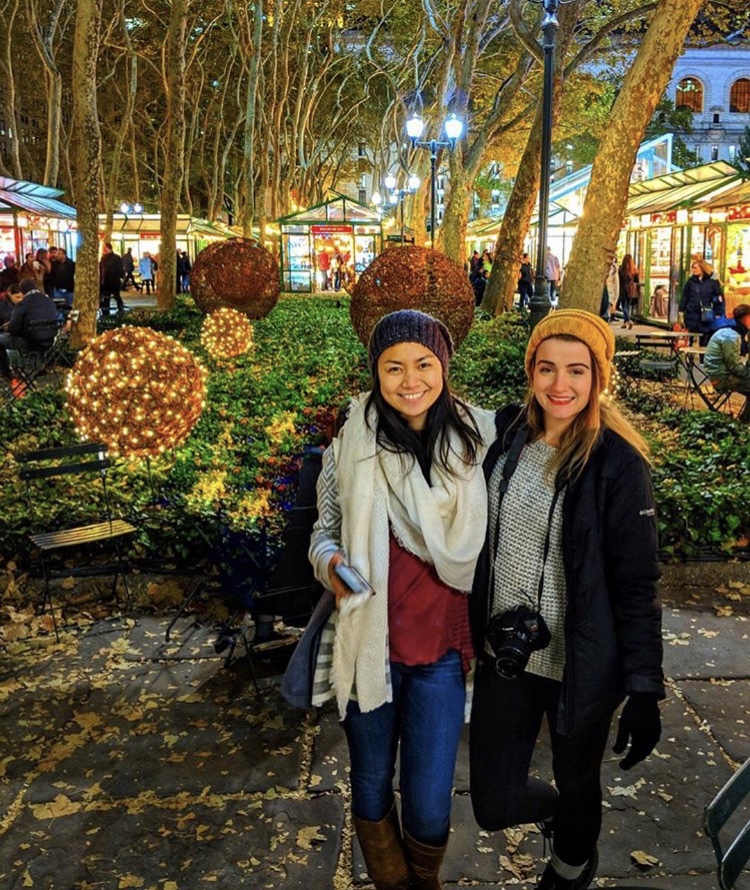 Pizza: IT'S. NOT. OVERRATED. New York Pizza is literally the best. I miss it dearly. Some of my favorites were Two Bro's Pizza and Baker St. in East Village and LES Pizza in Lower East Side. You aren't doing it right until you get a slice of pizza as big as your face and yes, fold it in half. Joe's is the most famous but these all are better and less known in my opinion.
Greek: Soulvaki, Lower East Side. (I think there is also a location in Midtown). It has the cutest decor, great food, and the staff is awesome. This was the first place I became a semi-regular. Try the octopus!
Acai: OK so I lived in Southern California for 6 months and like most people who lived there, became obsessed with acai. I didn't think I was ever going to be able to get good acai again. Count on New York City to do something better than the place that made it popular. Agavi is a hole in the wall little place in East Village that maybe 6 people can tightly fit in at one time. I highly recommend the PB&J bowl and then let your California friends know.
Tacos: So I hate to be basic but I will recommend what everyone who lives in NYC recommends. Los Tacos No. 1 in Chelsea Market. What? In a market, shopping mall-esque center? Yes. This unassuming little booth ALWAYS has the longest line in the Chelsea market and it is 100% worth the hype. There is also a little secret fish tacos stand down an unmarked hall that is pretty good too, but still nothing like Los Tacos No. 1.
Wine: 10 below in East Village. This has the cutest atmosphere, is amazing during summer because they open up the front, and has a great wine selection. Not only that but I've had the margarita and sangria before and really liked those too. Not to mention EVERY DAY their happy hour is buy one drink get one free! In a city so expensive as New York, this is an excellent find. Note: I wouldn't recommend the food. I've always been disappointed, I'll let them stick to the drinks.
Brunch: Ah, every basic girl's favorite hobby. Fortunately for us, it is also NYC's favorite. Seriously, on the weekend the brunches last till 3, sometimes 4. I've gone to so many brunches it is honestly hard to keep all of them straight but I will do my best. 1) Flying cock, Upper East side. Great atmosphere, great food selection, and great drink prices. Also, a place to watch games for all you football fans. The waiter said to me and my friend "I just want to make you girls happy" at the end so what more could you ask for? 2) Mezze, Lower East Side, Great Mediterranean food, fun music, and great drink specials. Caution this get super crowded when the weather gets nice. 3) Jack's Wife Freida, Chelsea (and other various locations). Cute vibe with community style tables and amazing and elegant food. 4) David's Cafe, East Village, as New York can do Acai better than California, it can also do better poutine than Canada. Get the poutine, it is AN EXPERIENCE.
Caribbean: Miss Lily's, East Village (and another location but I really like this one). OK so this isn't the most popular of food styles but I had to include it because I love this place so much. The food is so amazing and unique, you can't help but have a great time. Their drinks are also stellar as well. It's just one of those places that makes me leave happy.
Desert: the most important part! There are so many good places for ice cream in NYC so it's a little hard to pick, but my favorite would be Ample Hills Creamery in Chelsea. As a St. Louisan, I have to recommend the ooey gooey butter cake ice cream, a St. Louis style dessert and the only one to sell out so it's not just my impartiality  (one time I went all the way from east side to west side for this ice cream and it was sold out, devastating). Spot Dessert Bar in East Village. A restaurant literally dedicated to just desert. I've been here so many times and have never been disappointed. My favorite, however, has been the chocolate chip cookie in the skillet with ice cream and hot fudge on top (you'll know right away what I'm talking about). Last but not least, Levain in The Upper East Side. If you go on the weekend there will always be a line out the door. The only acceptable order for your first visit is a cookie. I don't care which type (since I'm a peanut butter fanatic I do that one) but you have to get one or your not Levaining or doing New York City right. If it's not the best cookie you've ever eaten in your life I'll give you $10.
Fast food: Sorry again California but Shake Shack. I've been to both burger dynasties, In n Out and Shake Shack, and I'm unbiased because I'm from the midwest. To me, there is no contest. I lived right next to one at one point and it was dangerous. This should be on everyone's bucket list when visiting New York. Tip: the one in Madison Square Park is the original and it is so cute. Only New York could make a fast food joint look like the trendiest place ever.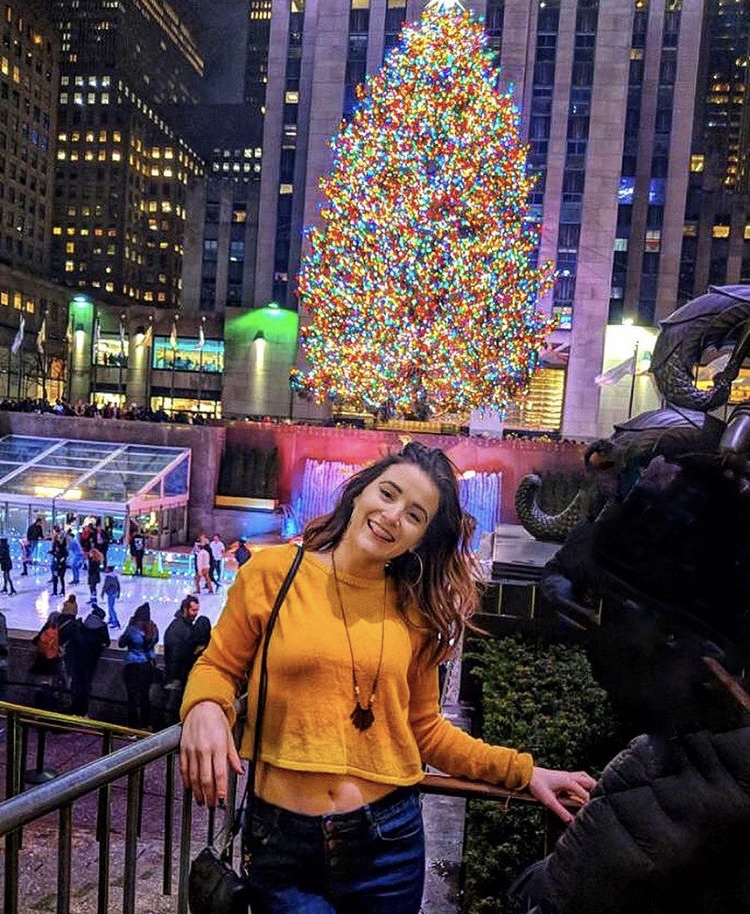 Travel Nursing in New York City – Holiday Season
I was lucky enough to be there not only for summer but Christmas season. Which is freezing, but also if you can brave the cold, gorgeous. As cheesy and touristy as it sounds, being in New York City isn't complete until you go to see the Rockefeller tree. On the other side of it, Saks Fifth Avenue has a really cool lights display. As someone who hates to go to overcrowded, overrated touristy things, do this once, it is worth it. Bryan Park and Union Square Park have really cute markets where you can shop for Christmas gifts and try some awesome food! Central Park is amazing all year round, but it is really special during the holidays. And they have ice skating that is bigger than the crowded Rockefeller one.
Travel Nursing in New York City – Summer!
People have their own opinion on what is the best time to be while in New York City and although you have to brave the stench of trash day in summer, it is truly an amazing experience to be in this city this time of year. So I have some cool recommendations for you. Ok so I haven't visited all the piers in Manhattan but I have never been disappointed by any that I've gone to during the summer. Pier 17, Seaport. I could stay here all day on a nice summer day. There are seats built into ledges in the concrete that are angled so you can lay comfortably, looking out at the Brooklyn Bridge and the city skyline. You can casually sip alcohol here as well, they have booths. It is relatively new so not only is it super nice, it's not as known as the other ones. Pier 26, Tribeca. I watched the summer pro volleyball tournament here on a beautiful summer day and fell in love with the area. There was so many sand volleyball courts, free kayaking, a winery, and a great view of downtown Manhattan with the One World Trade Center as the shining star. Brooklyn Bridge Park. If you want the best sunset shots of the city, you can't get anything better than then. It is pretty breathtaking. You'll see tons of people eating ice cream, drinking wine, and snapping pictures, but it still doesn't feel that crowded. Central Park. Sorry but I have to mention it again. Have all the picnics, rent bikes to get a greater sense of how big it is, people watch for hours. Although Central Park is known as a popular tourist destination, it is so big and beautiful is attracts locals and tourist alike without having everyone on top of each other (unlike Time Square). Smorgasburg. I highly recommend everyone does this. They have it in two locations but I prefer the one on Sunday with the beautiful view of Manhattan. Here hundreds of food trucks set up booths and you can try any food you can possibly imagine. I'd recommend going with a friend who has similar tastes, that way you can try more!
Honestly, I could go on a lot longer about travel nursing in New York City. I've written over for pages in google docs for what should be a brief post. But nothing is brief about New York. And that was just a taste. You should really go and see for yourself. As I said before, New York can knock you down but it always eventually lifts you back up.
If you have a nursing license in another state, getting your New York Nursing License is easy.
Fill out your Application for Licensure Form with the $143 fee

Your Staffing Agency will likely cover this licensure fee

Fill out your Certification of Professional Education Form

If you had your schooling in another country, you have to arrange for the NYSED to receive your foreign credentials
You can either do this directly through the institution issuing the credentials or through the CGFNS (Commission on Graduates of Foreign Nursing Schools)

The Commission on Graduates of Foreign Nursing Schools (CGFNS)
PO Box 8628
Philadelphia, PA 19101-8628
Phone 215-349-8767
Fax 215-349-0026
Web www.cgfns.org
Verify your Out-Of-State Nursing License with the National Council of State Boards of Nursing (NCSBN) through Nursys.
NYC might be the place for you! Check out our highest paying opportunities in New York to find a fully detailed pay package that's right for you.
Let's stay connected: Instagram | Facebook | Twitter